Adventures in Mindmapping Craftivism
A week ago I started writing my thesis proposal. I thought I would just add to the project proposal for my DIY Cultures and Participatory Learning class last semester. Then, when I really started writing the project description I became completely lost. I approached the proposal again, focusing on the outline of the paper. Swiftly I put down an overview of the early history of craftivism. William Morris, Arts and Crafts Movement, some examples of the American Crafts Movement I had come across in M. Anna Fariello's excellent overview of craft in 'Making in Naming: The Lexicon of Studio Craft' in Buszek's 'Extra/Ordinary Craft and Contemporary Art'. When I got to the Post-War era I had to pause. How did we get from utopian communities and educational institutions that had craft as part of the curriculum to modern craftivism or at the very least, indie craft? How do victory gardens, home improvement projects and hardware hacking become Punk fashion, zines? Where do craft and DIY converge and where does craft become something else? Or is craft always a form of DIY making?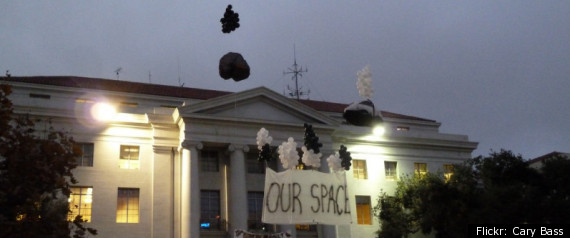 Then, on a whim I started mapping Occupy protests. Occupy encampments are full of examples of DIY and craft. Occupy has attempted to create DIY democracy and DIY villages. They have formed their own media: the people's library, the Occupied Wall Street Journal, tv channels in the form of livestreaming. Each Occupy chapter has created their own website with a calendar of events, press statements, General Assembly notes. Occupy camps constantly solve problems through innovation. The people's mic was a response to the prohibited use of megaphones or amplification. During large GA meetings, hand signals helped to reach consensus and bring up issues. There have been knit-ins, screen printing, sign making, costume creation. Occupy Melbourne created costumes out of their tents in order to evade eviction in a playful way. Occupy Cal created floating tents in defiance of being evicted and ordered not to reestablish the camp.
Further research and it is easy to see parallels between DIY/craft at the Occupy protests and the Greenham Women's Peace Camp. Until I started researching craftivism, I have to admit that I had not heard of the Greenham Women's Peace Camp. I encourage readers to check out the beautiful archive of the protest at www.yourgreenham.co.uk. Here's an overview via www.greenhamwpc.org.uk/:
On the 5th September 1981, the Welsh group "Women for Life on Earth" arrived on Greenham Common, Berkshire, England. They marched from Cardiff with the intention of challenging, by debate, the decision to site 96 Cruise nuclear missiles there…

…they took the authorities by surprise and set the tone for a most audacious and lengthy protest that lasted 19 years. Within 6 months the camp became known as the Women's Peace Camp and gained recognition both nationally and internationally by drawing attention to the base with well publicised imaginative gatherings.This unique initiative threw a spotlight on 'Cruise' making it a national and international political issue throughout the 80s and early 90s…

…Living conditions were primitive. Living outside in all kinds of weather especially in the winter and rainy seasons was testing. Without electricity, telephone, running water etc, frequent evictions and vigilante attacks, life was difficult. In spite of the conditions women, from many parts of the UK and abroad, came to spend time at the camp to be part of the resistance to nuclear weapons. It was a case of giving up comfort for commitment.
DIY and craft were a daily part of the Greenham protest. Here is a bit from Anna Feigenbaum's paper, 'Tactics and technology: Cultural resistance at the Greenham Women's Peace Camp':
A number of women at Greenham literally learned how to weave, knit and spin wool, often taught by the older women at the camp. Making good quality wool socks and sweaters was both a practical way to produce affordable clothes for living outdoors and a technique to pass the time. Whether on one's own or while chatting with other women around the fire, knitting could provide comfort and relief.
So… now I'm thinking about not only where DIY and craftivism converge and depart but also where does craftivism and protest converge and depart? In protest encampments like Occupy and Greenham, are other acts outside of typical notions of craft also a form of craftivism? At both camps protestors had to cook and create communal kitchens often without electricity. This past winter, in colder climates such as Occupy New Haven, protesters gathered found materials and worked together to winterize tents and fortify them for inclement weather. Where do these DIY acts fit in? Just as DIY and craft in any other setting, through solving problems with DIY methods, protestors become empowered and create stronger social bonds. These are acts that are political in that they are in a protest environment and that they are defying norms, defying the obstacles that come with prolonged outdoor protest. Please feel free to share your thoughts on this.